VITICULTURAL REGIONS IN SLOVAKIA
INTRODUCTION
Virticultural production in the Slovak Republic is concentrated in six virticultural regions along the east-west axis of the country. The largest region is the Lesser Carpathian located in the west, one with warmest temperature is considered the South Slovak region, the most diverse one is Nitra region, the most mysterious one Central Slovakian, the most enchanting East Slovakian and the most famous Tokaj region in the southeast of the country. Each of them are characterized by specific natural conditions and history.
Slovakia is divided into:
6 wine-growing regions

40 wine-growing districts

603 wine-growing municipalities
LESSER CARPATHIAN VITICULTURE REGION
Lesser Carpathian viticulture region is located around north of Bratislava. It spreads along south eastern hillsides of Lesser Carpathians mountains to Čachtice and consequently spreads out to lowland Hlohovec where vineyards are located on the highland of Považský Inovec. Three out of twelve viticulture districts are located north-west to the Lesser Carpathians mountains. Skalický and Zahorský viticultural districts are isolated areas. Lesser Carpathian viticultural region is the largest and probably the most developed Slovak viticultural region. It has a very rich history. Wine grapes have been grown here for centuries from times of Roman Empire. Great/Wide diversity of soils is typical for this region. Vineyards are located on clayish, sandy or even stony soils. Most of them lie on limestone sub-soil but you can also find vineyards lying on the shale. Some of them are steep, while others lie at the foothills oriented to the south, south-east or south-west. Despite the fact that this is one area, geological composition here is like a puzzle. Each piece of it is different. From a historical point of view different varieties were grown in each town under the Lesser Carpathians mountains. In south-eastern town Rača, which is currently part of Bratislava, Blue Frankish and Riesling varieties went - during Phylloxera period it was challenging. Blue Frankish has become the symbol of Rača. It shall be mentioned that one of the most liberal European monarchs, Maria Teresa, used to prefer it. These two varieties have been grown in Rača up to these days. The ,,Silvaner,, variety was brought by German immigrants to another village under the Lesser Carpathians mountains. Limbach, and winemakers here make so called ,,Limbašský Silván,,. Typical for Modra was ,,Dievčie hrozno - Girlish Grape,, wine but currently also nice and spicy Gruner Veltliner is being grown on slopes of Modra. In the northern part of Lesser Carpathian region there is Horne Orešany village, which became famous due to its Blue Portugal wine. Today Riesling varieties go well on the shaly soils in the surrounding of Orešany. The development of the Lesser Carpathian region has been significantly influenced by Bratislava, which is the economical centre of Slovakia, as well as by a marketing alliance founded by Lesser Carpathian winemakers - MVC (Lesser Carpathian Wine Route).
Area: Currently 5 359 Ha of vineyards are registered in the Lesser Carpathian region.
Rainfall: 600 mm
Average temperature during vegetation period: 17.2 C
Total amount of sunshine: 3 100 hours
NITRA VITICULTURAL REGION
Nitra viticultural region adjoins Lesser Carpathians viticultural region in the east and South-Slovakian viticultural region in the south. In the north it extends up to Radošina village. It comprises nine viticultural rayons. The most famous is Radošinský rayon but more and more respect is given to Sintavsky, Nitriansky or Zitavsky rayons. Much like most of Slovak viticultural regions also Nitra region is characterized by high geological and varietal diversity. Nitra viticultural region adjoins the warmest South-Slovakian region in the south and climatic conditions here are similar. In the north of Nitra region, the average temperatures are a little lower, but that is beneficial to freshness and aroma of wine. The biggest producers of sparkling wines are concentrated here.
Vineyards with one or two varieties prevail in particular villages. Blue Frankish is typical for Levice, Welschriesling and Sauvignon Blanc can be found in Vrable. Radošina village is famous for its wines made of Pinot gris variety which is locally called Radošinský Klevner. In modern history of viticulture - new locations have appeared which are worth mentioning for top quality of their wines. Mojmírovce village undoubtedly belongs to such places where beautiful Riesling, spicy Blue Frankish, attractive Pinot blanc and Chardonnay are grown.
Administrative and economical centre of this region is an ancient town called Nitra which used to be the centre of Nitra Princedom a long time ago. There was a Benedictine monastery as early as in 800. Monks used to make sacramental wines not only for their own use, which contributed to winegrowing development in this region. Right above Nitra, on the Zobor hill, which is currently part of the town, grapes are grown up to this day. There are tens of wine cellars in the historical centre of Nitra which you can visit during wine festivals.
Area: 3 903 ha
Rainfall: 570 mm
Average temperature during vegetation period: 17.6 C
Total amount of sunshine: 3 200 hours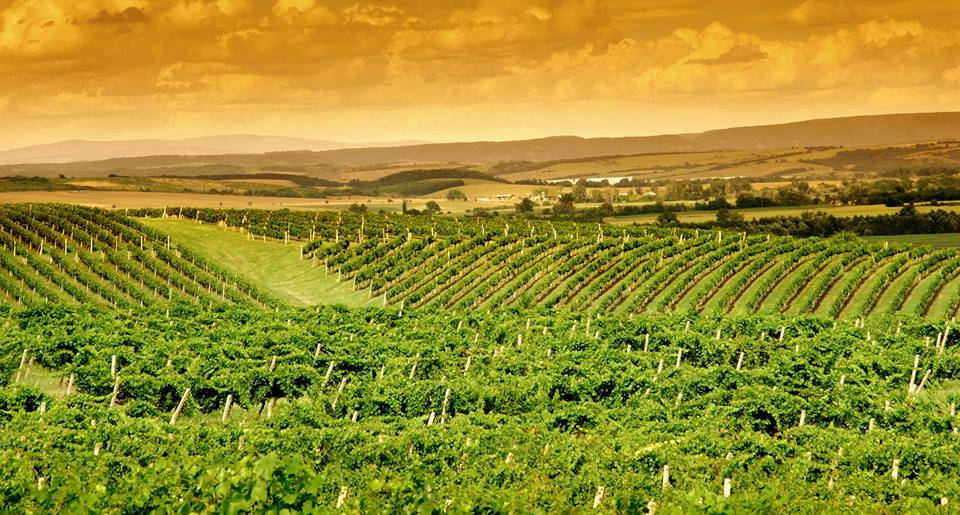 SOUTH SLOVAKIAN VITICULTURAL REGION
As the title says, the South Slovakian viticultural region is located in the south of western Slovakia. It spreads from Bratislava towards south - alongside the Danube River - up to Štúrovo. In the north it is bordered by the borders of towns Galanta, Šala and Nové Zámky. The South Slovaklan viticultural region consists of eight viticultural sub regions and the most significant of them are Hurbanovský, Strekovský Land Stúrouský sub regions. This region is specific in particular by the highest average temperature and the highest number of hours of sunshine. This makes predetermination for growing of later ripened varieties, especially blue grape varieties. Another factor influencing the character of wines are the Danube and the Váh rivers thanks to which there is specific microclimate in this region. Natural conditions allow vinedressers to grow grapes with high content of sugar, which is suitable for making massive and complex red wines, or for making naturally sweet tasting wines. Vineyards are located on undulating plains and slopes. Variety composition is very lively - however due to historical influences Welschriesling and Riesling are the most common varieties.
Thanks to ideal conditions the range of varieties significantly extended and these days also excellent wines made of Traminer, Chardonnay, Pinot Gris and Pinot Blanc varietals come from this region. ,,Devín,, variety grows very well here - it´s requirements are a lot of warmth and suitable soil for making naturally sweet wines. From blue varieties the most popular are Cabernet Sauvignon and Slovak variety Dunaj, which provide full, velvety soft wines with expressive fruitiness and chocolate aroma.
Vineyards in South-Slovaklan viticultural region provide grupes of excellent quality. Viticulture in this region is kind of ,,Cinderella" so far, but thanks to excellent raw materials and creative producers they are expecting a promising future.
Area: 5315 Ha
Rainfall: 510 mm
Average temperature during vegetation period: 18.3 C
Total amount of sunshine: 3 350 hours
CENTRAL-SLOVAKIAN VITICULTURAL REGION 
Central-Slovakian viticultural region adjoins Nitra region in the west and spreads out along the borders with Hungary up to town of Tornaľa. It comprises of seven viticultural areas. The most respected location is ,,Modrokamenské - Blue Stone,, vineyards with steepness 20 percent at some places. Even though the first written record about winegrowing in Central Slovakian viticultural region dates back only to 1135, king Belo II. gave two vineyards to a monastery in village Bzovík. However, grapes have been grown here long before. Vineyards are located on southern slopes of ,,Krupinská highland,, and a little elevated locations of ,,Ipeľská lowland,,. Vineyards do not make compact areas here, but prefer rather isolated islands on hillsides that are very often called ,,Wine mountains,, or ,,Wine hills,,. Prosperous mining business used to be widespread in Central Slovakia - economical situation in the region supported viticulture development here.
Welschriesling, Gruner Veltliner, Muller Thurgau but also Pinot Noir or Traminer are fixed stars of this region. In recent years varieties such as Devin and Chardonnay were added which provide very aromatic wines. Blue varietal wines are very popular - mainly Blue Frankish and Cabernet Sauvignon which are characterized by a very pleasant cinnamon tone to the taste. In Sebechleby village historical ,,vineyard houses,, are preserved which are part of Slovakia´s architectural cultural heritage. This region is not touched by industrialisation and that creates space for a lot of organic BIO production. As there is enough quality raw materials for making premium wines, we can expect that new wineries will be founded and succeed on the market.
Area: 2 502 Ha
Rainfall: 660 mm
Average temperature during vegetation period: 17.0 C
Total amount of sunshine: 3100 hours
EAST-SLOVAKIAN VITICULTURAL REGION
East-Slovakian viticultural region is divided in two parts. Moldavský viticultural area is located in south-eastern part of East Slovakia and three remaining areas make up a sort of ring around towns Sobrance, Michalovce and Kráľovský Chlmec. Right after the Tokaj region the East-Slovakian viticultural region is the second smallest viticultural region in Slovakia. Mainly its northern parts, Sobranecký and Michalovský viticultural areas, belong to rough locations with cold winters. Today's Vihorlat mountain range is basically the reminder of prehistoric super volcano crater with several tens of kilometres in diameter. Volcanic soils are extremely suitable for winegrowing, therefore in protected locations oriented to the south it is possible to grow excellent wines. Remaining two areas, Kráľovskochlmecký and Moldavský, belong to warmer locations. In East Slovakian region you can find many varieties from quantitative varieties such as Muller Thurgau and Welschriesling to varieties of the highest quality such as Pinot Blanc, Pinot gris, Chardonnay, Sauvignon, Traminer and Gruner Veltliner. As for blue varieties Pinot noir, Cabernet Sauvignon, Saint Laurent and Blue Frankish can be found in this region.
Area: 1 074 Ha
Rainfall: 680 mm
Average temperature during vegetation period: 16.9 C
Total amount of sunshine: 3 100 hours
TOKAJ VITICULTURAL REGION
The Tokaj viticultural region is the smallest Slovakian viticultural region. It is separated from the rest of the Tokaj region by state borders with Hungary. It comprises of seven villages - Bara, Čerhov, Černochov, Malá Tŕňa, Slovenské Nové Mesto, Veľká Tŕňa and Viničky. The uniqueness of this region is determined by several factors. The first one is soil of volcanic origin and aroma in the wine is influenced from the mineral contents present in the ground. The second precondition of Tokaj selections are long-lasting and warm autumns that make sure that grapes gain high-enough sugar content. After the invasion of Tatar forces today's Tokaj region remained abandoned. It was colonized by Italian settlers from Bari (that's where the name of one of the villages, Bara, come from) and besides planting out vines they probably brought also experiences with making naturally sweet wines. There is an apparent connection between Slovak expression "cibéba" (raisin) and expression for muscatel variety used in Sicilia ,,Zibibbo" which comes from Arabic language and means ,,dried grape berry,,. In 16th and 17th centuries during Turkish wars local inhabitants started to build underground cellars that were used as hiding-places against enemy forces. Today in these underground tunnels Tokaj wine gets matured in ideal conditions. The first reference about Tokaj wine dates back to the 16th century, exactly to 1560, and the first Law took effect in 1655. Tokaj wine became very popular among aristocratic courtyards in whole Europe. It could be found in czarist cellars in Saint Petersburg but also in the courtyard of Ludwig XIV who is considered to be the originator of the statement "Vinum Regum, Rex Vinorum" - The wine of Kings, the King of wines. Historically, only three varieties have been used to produce Tokaji wine: Furmint, Hárslevelu and Yellow Muscat. Genuine classical Tokaj selection has maturing potential in the horizon of several decades, possibly up to a century. Exactly these sorts of Tokaj wines maintain their place on the market in Slovakia.
Area: 902 Ha
Rainfall: 550 mm
Average temperature during vegetation period: 16.5 C
Total amount of sunshine: 3 100 hours
Source: Own, Slovenské Vinárstva - Ing. Juraj Mikula/Martin Masaryk - licence for commercial use